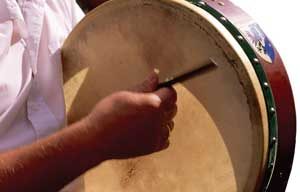 Is the thought of sitting Irish in your Leaving Certificate stressing you out?  Whatever your motivation for taking Irish – be it as an entry requirement for third level, or for a Masters in Primary Education, we have the solution to ease your pain.
Fourteen Subjects
Our unique home study Leaving Certificate programme has been proven to work for the thousands of students who have passed through our virtual doors since the College was founded back in 1932.  We offer 14 different subjects at both higher and ordinary levels and Irish is one of our most popular.
Virtual Classroom
The courses have been authored and designed to replace the classroom and many of our students would not be in main stream school.  This is for a myriad of reasons – some would have health issues or they have decided that they prefer not to continue their studies in school.  Others are based abroad, but wish to continue in the Irish education system.  We have even had a few young footballers who have been scouted and are over in the UK!
Repeating
We also support students who have decided to repeat their Leaving Certificate, or are mature students (aged over 23 years) who have decided to return to third level and who may now need one or two pre-entry subjects that they did not get first time around.  They may be working to support themselves or their families and therefore need the flexibility of our distance learning programme.
Syllabus
The syllabus for each subject is broken down into a set number of lessons and students work through our own study notes in conjunction with recommended textbooks and online resources.
Fully Supported
Our students are guided every step of the way by their own personal tutor who can be contacted at any time, privately by email, with any query whatsoever.
Our Student Services team is also on hand at the College to chat to students if they need any encouragement or advice during their studies.
Time Effort
Each course can be completed in as little as 6-9 months, but students would typically enrol in and work towards an exam year.  They have up to 2 years to complete their studies.
Past Students
Our students have gone on to do many great and good things in their lives.  We are proud of the fact that we can support anyone who has a desire to learn – anytime, anyplace, anywhere.
INTERVIEW
I spoke recently with a 2016 Irish Leaving Certificate student, Helen Rogers about her experience of studying with Kilroy's College.
How did you hear about Kilroy's College and our Irish Leaving Certificate home study course?
I had heard about it by word of mouth – Kilroy's has a really good reputation for Leaving Certificate home study courses. I have children and so had to study at night and around other commitments for the examination so it was the perfect solution for me.
Was it easy to enrol in the course?
Yes – I phoned the College first just to make sure that I would be able for it and then I enrolled online as there was a special offer on at that time.
Had you any experience of taking any other leaving certificate exams in the past?
I took my Leaving Certificate at school in 1989 and went onto third level to study Science, but had not studied or used my Irish at all since taking the Leaving Certificate at secondary school in 1989.
How did the course help you with your preparation for the oral, aural and written exams that you sat in 2016?
The Irish tutor, Peadar, kept me motivated throughout my studies with fantastic feedback on my assignments and little notes of encouragement. I was very over-whelmed at the start of the course – which I completed in 9 months.  Rosarii, in the Student Services Department at the College was also so helpful and kind.  She stuck post-it notes on all my work that was returned to me with little comments to keep me going.  The tutor told me that I under-estimating my ability and helped me to re-focus when it got tough.
Which modules did you personally find the most helpful? (For example the oral, aural or written paper modules)?
I found the entire course to be relevant and helpful.
Would you recommend the home study course to others?
Definitely!
How did you get on in the leaving certificate Irish exams overall?
I got a B, which I was thrilled with as I had not done any Irish at all since 1989!
Were you offered a place at College to read a Professional Master of Education in Primary Education?
Yes, I am now studying for a Masters in Primary Education at Hibernia College.
What are you most looking forward to next in your journey?
It is a 2 year Masters Programme and so I am just focusing on that right now!
Contact Us
So don't be limited by work, time or any other constraints – let us help you to be the best you can be, at the pace and at the place that suits you.
Take the first step today and enrol in our home study programme.