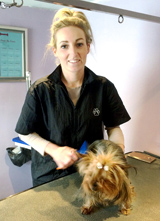 Louise now runs her own business, we asked her a few questions.
Why did you pick dog grooming?
I have loved dogs since I was a kid and always had an interest in learning about dog grooming. The course was a very economical way of learning about grooming and the business in my own time. It is also a much cheaper way of learning about all aspects of dog grooming than the more expensive one-to-one courses that are available elsewhere.
Had you any experience in dog grooming before you took the course?
None. I have always had an interest in dogs – I have 8 dogs. However, I had never done any formal training and thought it might be interesting and lead me to a career in dog grooming and care.
How did you find Kilroy's College? On the Internet? Google?
I had been looking around at a number of courses. I found the college through their Facebook page and then went through the website. The course stood out because it was online, I could do the course in my own time, it was convenient and the cost was good.
Was it easy to apply for the course?
It was very easy.  After applying online they sent me a pack and then I signed up immediately. I started the course in 2012.
Was it useful?
Yes, I thought it was brilliant. It was easy to understand the material and there was loads of stuff I did not know.
What parts of the course were particularly interesting?
I found the whole course very interesting. There was lots of dog information I was totally unaware of. It is split into 24 modules and you get 6 modules at a time.When you complete the 6-module group you then progress on to the next 6. The topics include areas such as an introduction to the different dog breeds, styling for different breeds, handling & care of dogs and the business and management side of dog grooming which was particularly interesting. Part of the course suggests that students try to get work experience in a dog grooming business.This was a great way for me to get hands on experience and learn from people who work in the business day to day. It was great because the work experience turned into a job offer. This worked out so well that the owner of the business actually took time off and I ran it for her. I was running all aspects of the company from bookings, cash management, grooming, marketing and the collection & delivery of the dogs. Again, I would not have got that experience without doing the course.
Would you recommend the course?
I already have. A girl who lives near me asked me about the course and how I was getting on and she is now studying for it. It is easy to apply for and is relatively cheap. It was very interesting and easy to understand and learn. I got a job out of it and now I am in the process of opening up my own business.
Has the course helped you start your own business?
Yes. Through the knowledge I got from the course and the experience I gained by being encouraged to work with a dog groomer it gave me the confidence to set up my own business – "Groom by Louise". It has been a really great experience.